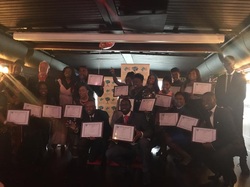 The United Kingdom Regional Entrepreneurs Empowerment Business Awards known as R.E.E.B.A has made history on the 24th September, 2016; with the celebration of various individuals who are using their passion and talents to make a difference in the community both in the youths and adults arena.
Gbedu magazine reveals that the Boss Lady, Founder and visionary of the REEBA organisation, Ms Che Ann, and her team of talented ambassadors, appreciated REEBA award winners; Martin Stevens and Anaya Kamara.
She opined that her vision is to recognised those individuals who steps out of their comfort zone in doing what they love to do and yet impacting others and making a difference.
The event opening was unique in its nature as the Councillor of Upper Edmonton Ward, Enfield Patricia Nkechi was awarded for her work in the community and the lives she has touched.
Consequently, Jackson Ogunyemi know as Action Jackson who happens to talked a student down from Stratford Station roof as seen on the news and news papers was also awarded for his contribution to the community as youth worker and motivational speaker driven by love.
The awards was hosted by Dr Dickson Aleroh and Cathy Ballard, both mentors and change making Entrepreneurs in their fields.
The Deputy Mayor of Southwark Councillor Charlie Smith, who gave a brief speech about not giving up on your dreams, showing the guests on board his beloved Southwark landmark on the river thames. He also presents the awards to the adult winners as their names were read with so much excitement, appreciation and congratulated them.
The Young Mayor of Lewisham Emmanuel Olaniyan, also pesents the awards to the youth winners, encouraging the younger generation that dreams are possible.
Ms Che Ann is a unique visionary leader that runs her organisation in style, and the refreshments for the day were made available as the Deputy Mayor of Southwark cut the REEBA cake in celebrating 4 years of recognising young and adults leaders in their own right making a difference.
Read more at
http://www.gbedumagazine.com/uk-r-e-e-b-a-historical-awards-stepping-out-of-comfort-zones-to-impact-the-world/#r82p9bv1P8Dk9Vtz.99