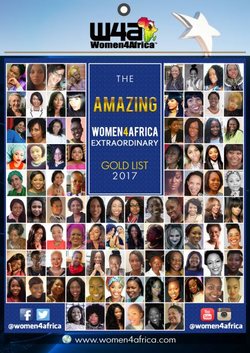 In honour of
'International Women's Day'
8th March 2017, Women4Africa™ have released its
'Women4Africa Extraordinary Gold List 2017'
which comprises of all of its 2017 Finalists and Recognitions.
Every year Women4Africa celebrates a plethora of outstanding women and youth so this year see's the 2nd Edition of its 'Extraordinary Gold List' which features yearly.
The REAL gold of Africa is its 'Women' and what better way to celebrate them.
We celebrate you amazing women as you #BeBoldForChange
See full list here
http://www.w4ablog.com/women4africa-celebrates-its-2017-recognitions-finalists-for-international-womens-day/
We made it on the list !!!!!